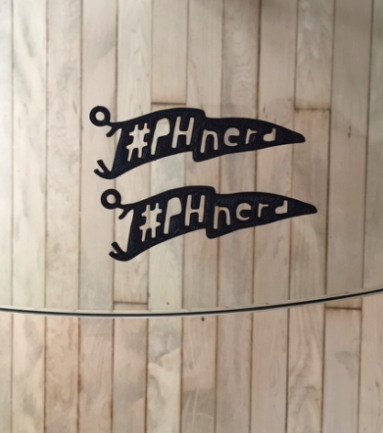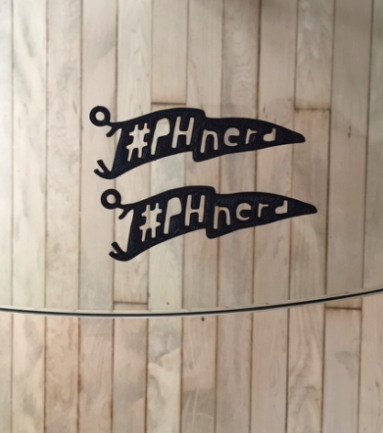 We can now 3D print custom logos and designs
as keychains, necklaces, or desk doodads for health nerds.
They make perfect team gifts, conference swag, nerdy jewelry,
or just feeling the satisfaction of touching your design idea IRL (in real life).
LEARN MORE
What is a 3D Print?
3D prints are made by a machine that

heats and layers plastic filament from a digital file

.

Here's more on how they're made

. 3D printers disrupt traditional manufacturing by empowering creatives and innovators like you to quickly design and print exactly the object that's in your brain. You can rapid prototype, play, and see your ideas come to reality.
It kinda feels like the future, doesn't it?
WILL MY DESIGN WORK?
To qualify for 3D printing, designs should be one-color, continuous (all components should touch each other so they are one object), and as simple as possible. Additional text is possible under 30 characters and in "Bebas" or "Arimo" font. Vector images are preferred, but we can convert your standard JPG to SVG and then STL for printing if needed. Don't have a design? We can mock a simple one up for you.
WHAT COLORS DO YOU HAVE?
We currently print in single colors: 1) White: High Impact Polystyrene (HIS) (the weakest) 2) Black: Acrylonitrile Butadiene Styrene (ABS) (strong) 3) Translucent: Acrylonitrile Butadiene Styrene (ABS) (strong). We can also print in Black or White Nylon (strongest), but are currently out of stock.
3D printing has a handmade texture, which shows off how it's made. We love it and don't strive for the perfect smooth texture you may be used to from Walmart plastic goods.
WHY ARE YOU DOING THIS?

Public health needs innovation if it's going to keep extending the quality and length of human life. We celebrate technology and skills that the next generation of public health ninjas will need to invent the next big ideas. 3D printing helps creatives, entrepreneurs, researchers, nurses, and therapists rapidly prototype ideas. We think it's a critical skill to learn.

 
CAN I JOIN YOU?

Ninjas are leaders who bring a unique skill, energy, enthusiasm to the work of making the population healthier. If this sounds like you, sign our mission statement and we'll email you next steps.